This article is about
Connect the Smart Siren to the Eva Smart Home App

How to use the Smart Siren in the Eva Smart Home App

Which devices the siren is linked to

The function button

Light modes

Factory reset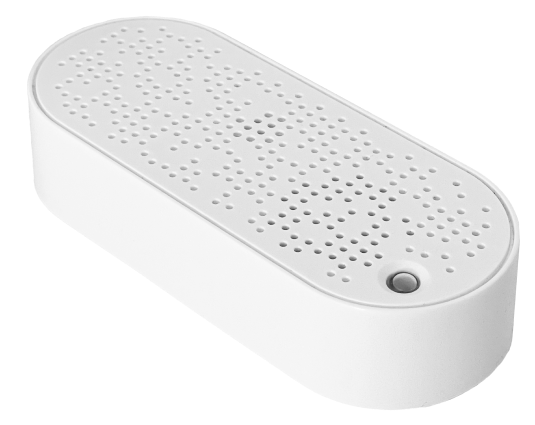 1) Connect the Smart Siren to the Eva Smart Home App
NB! There is no need to unscrew the screw on the underside, the device only needs to be powered in the socket and therefore does not need to be opened up.
Plug the Smart Siren into a socket. When the device receives power, it will start looking for a Zigbee network to join, and this is indicated by the yellow LED flashing.
Tap + on home page -> Add device -> Select Frient sensors -> Select "Device does not have QR code"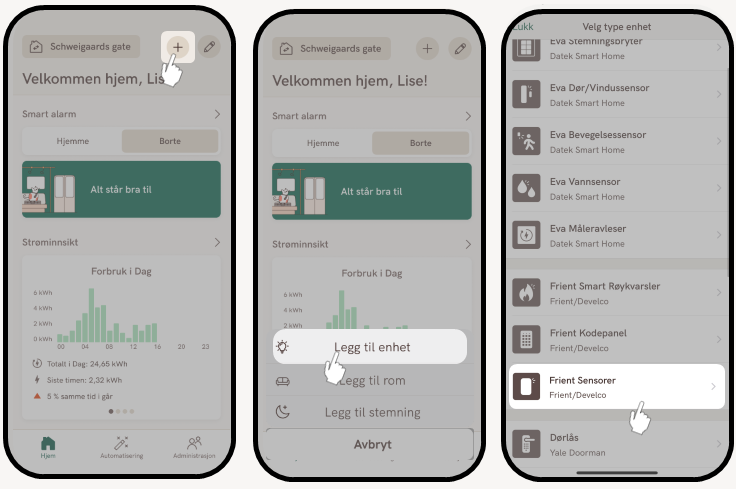 2) How to use the Smart Siren in the Eva Smart Home App
Once you have connected the Smart Siren and it has been added to the Eva Smart Home App, you can make adjustments for when you want the siren to trigger an alarm based on which sensors you have in your home. The siren will trigger an alarm in the event of a water leak, fire and burglary.
3) Smart sirens can be connected to the following devices from Eva Smart Home
Eva Door/Window Sensor
Frient Motion Sensor
Eva Water Sensor
The Smart Siren can be used as an alert system along with Frient Motion Sensor, Eva Door/Window Sensor, and Eva Water Sensor.
When an alarm is triggered while your home is in away mode, which includes, for example, a motion sensor in away mode, the siren will start sounding. You will receive a notification in the Eva Smart Home App about the triggered alarm, and you can reset the alarm in the app to turn off the siren.
4) The function button/LED of the Smart Siren
The function button/LED is used to check the mode of the Smart Siren and also serves as a button to connect or reset the device.
5) Light modes:
Gateway search mode: The yellow LED light flashes.
Connected to power grid: The green LED light is on.
Battery backup (power outage): The green LED light flashes.
6) Factory Reset
Connect the Smart Siren to the power grid.
Press and hold the menu button/LED light/function button (the yellow light at the front of the device) for 15 seconds, until the LED light blinks several times in a row.
Release the button.
After this, the Smart Siren will search for a hub when it is reset and blinking.
Precautions
Warning: For safety reasons, always disconnect the Smart Siren from the power socket before removing the front cover.
Do not remove the product label - it contains important information.
Please be aware that electronics are sensitive to static electricity.
Mounting the Smart Siren on the wall with screws:
Open the enclosure of the device by removing the screw at the bottom of the unit.
Use screws or double-sided tape to mount the siren on the wall.
Close the enclosure by hooking the front cover at the top of the device, and then pressing the front cover against the unit.
Finally, screw in the screw at the bottom of the device.