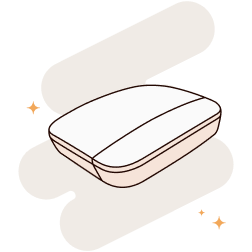 Introduction
Eva Door/window sensor ensures that you always have control over your home! It is small, one of the smallest of its kind and location friendly. You attach the sensor to the door or to your window with double-sided tape. You get a full overview in the app of doors and windows.
Installation
Open the top cover of the door/window sensor with your fingernail and press on the recessed area while lifting up the top cover.

Insert the battery as shown in the picture.
Note: Make sure to insert the battery the right way and use new batteries of the correct type (CR2450).



LED lights will flash blue when the door/window sensor starts up.

After startup, the LED will repeat 3 green flashes with a short pause to indicate that the device is in pairing mode.

Attach the top cover by clicking it back into place.
Factory reset
Press and hold the function button on the inside of the door/window sensor for more than 10 seconds to reset it to factory settings and put it in pairing mode. The door/window sensor LED will flash green 10 times to indicate start-up, and then indicate pairing mode by repeating 3 short green flashes with a brief pause.
Placement of the Eva Door/Window Sensor
You can place the door/window sensor in door or window frame and secure it using double-sided tape or screws.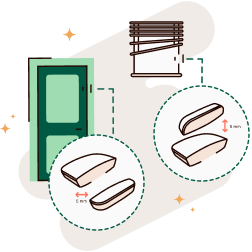 To mount with screws:
Open the top cover and remove the battery as shown in the diagram above. Then, you will see a hole that can be used for screw mounting. Open the magnetic part of the door/window sensor by using a fingernail and pressing between the top cover and the casing. Then, you will see a hole that can be used for screw mounting.


Note: Before attaching the door/window sensor, make sure that the casing is correctly attached, and the devices display the correct open/close status with a green LED light and show the correct status in the smart home app.
Note: Ensure that the sensor is mounted so that the sensor and magnet are aligned with a distance between the sensor and magnet of less than 8 mm.


| | |
| --- | --- |
| LED PATTERN | EXPLANATION |
| LED is OFF (normal) | During normal operation, the LED lights will be off |
| 1 short flash | The sensor is opened (only if the LED light is activated) |
| 2 short flashes | The sensor is closed (only if LED light is activated) |
| Repetitive: 3 quick flash and pause | LED light flash 3 short green flashes every second to indicate that the sensor is in pairing mode |
| 3 flashes | Confirmation that LED light is activated/deactivated |

Using the button
ACTION
DESCRIPTION
EXPLANATION

Short press

IAS

Sends IAS supervision messages

Press and hold for more than 2 sec

Short poll

Starts short poll for 2 min if the sensor is part of a Zigbee network

Press and hold for more than 4 sec

Activate/deactivate LED lights

Turns the LED lights of the door/window sensor on/off

Press and hold for more than 10 sec

Reset the sensor to factory settings and enable pairing mode

Resets the sensor to factory settings before activating pairing mode.


Note: Factory reset will delete the sensor from your Hub.

Important

s

afety information
For indoor use

only

C

an be used

in temperatures ranging from 0

ºC to 40

ºC

.

This product is not a toy,

keep

out of reach of children.

Do not

place

near any heating source or in direct sunlight, as this may cause overheating.

Only use

correct

type of batter

ies

. Risk of fire or

explosion, if

the battery is replaced by an incorrect type.

Do not use the equipment in case of any visible damage.

Dispose of used batteries according to instructions.
For equipment including button and coin cells
Do not ingest battery, Chemical Burn Hazard.

If

a

coin

or

button cell battery is swallowed, it can cause severe internal burns in just 2 hours and can lead to death.

Keep new and used batteries away from children

.

If the battery compartment

does not close securely, stop using the product and

keep

it away

from

children

.

If you think batteries might have been swallowed or placed inside any part of the body

,

seek immediate medical attention

.
Failure to observe recommendations included in this manual may be dangerous or cause a violation of the law. The manufacturer will not be held responsible for any loss or damage.
In the box
Eva Door/Window Sensor

CR2450 battery

2 screws

Safety instructions
Appendix
Information on disposal for users of waste electrical & electronic equipment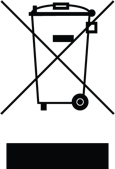 This symbol on the product and accompanying documents means that used electrical and electronic equipment (WEEE) should not be mixed with general household waste. For proper treatment, recovery and recycling, please take this product to designated collection points where it will be accepted free of charge. Alternatively, in some countries, you may be able to return your products to your local retailer upon purchase of an equivalent new product.
Disposing of this product correctly will help save valuable resources and prevent any potential negative effects on human health and the environment, which could otherwise arise from inappropriate waste handling. Please contact your local authority for further details of your nearest designated collection point. Penalties may be applicable for incorrect disposal of this waste, in accordance with your national legislation.
Software updates
Software updates can be released by the manufacturer to fix bugs or enhance functionality after the product has been released. Updated software versions released will not impact continued compliance with applicable rules.
Technical specifications
General

IP Class: IP 50 (indoor)

OTA upgradable

Local Communication

Radio protocol: Zigbee 3.0

Frequency: 2400-2483,5 MHz (IEEE 802.15.4)

Ratings

Operating temperature: 0 to +40 °C

Operating voltage: 3V

Battery

CR2450
Declaration of Conformity
Datek Smart Home AS declares that the equipment described in this document, is in compliance with the essential requirements and other relevant provisions of EU Directive 2014/53/EU. If you require a copy of the original signed DoC, please visit https://hjelp.evasmart.no/hc/no or scan QR code that can be found on the packaging of this product and select documents for your product.

Datek Smart Home AS
Voldgata 8
2000 Lillestrøm
Norway