Eva Smart Plug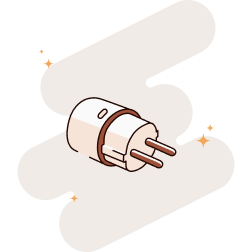 Introduction
The small but powerful 230V / 16A / 3680W Eva Smart Plug provides you with control over power efficiency and consumption. This Smart Plug is part of the Eva product family and is ZigBee 3.0 certified.
You can use the Eva smart plug in other Zigbee-based smart home systems as long as your smart home provider have support for the plug.
Installation
During startup, the LED alternately blinks red and blue. It will then enter pairing mode, and the red LED will rapidly blink 3 times. To set up the Eva Smart Plug, follow these steps:
Open the Eva Smart Home app.

Add a new device and choose Eva Smart Plug

Scan the QR code on the plug.

Follow the instructions in your app to complete the setup process.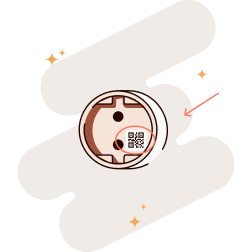 Test the device by using the push-button of the Smart Plug or the app to turn power ON/OFF.
Factory reset
If the plug does not enter pairing mode, press and hold the button for at least 10 seconds to reset the smart plug and initiate the pairing mode.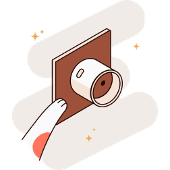 LED indications
LED COLOR
LED STATUS
EXPLANATION

OFF

Power is OFF

Blue

ON

Power is ON

Blue

Flashing

Smart Plug is in timer mode

Red/blue

Flashing

1. Blinking alternately RED and BLUE. The Smart Plug is booting

2. Blinking RED, while BLUE is on. Smart Plug is in pairing mode and power is ON

Red

ON

Indicating, that devices connected are consuming too much current.




Remove connected devices from Smart Plug and restart Smart Plug by taking Smart Plug out of socket and re-inserting Smart Plug into

socket

Red

3 fast blinks

Smart Plug is in pairing

mode

Red

Blinking slow

Flashing every half second –pairing mode for Touchlink.

Blinks every second – lost connection to hub/gateway.

Blinks every other second – not connected to a hub/gateway

Red

Blinking very fast

Temperature too high. Disconnect Smart Plug and wait until it

has

cooled down

Using the button

ACTION
DESCRIPTION
EXPLANATION

Press

ON/OFF Toggle

Turns ON/OFF a device plugged into your

Smart Plug

e.g.

a desk

lamp

Press for

more than 10

seconds

Start pairing mod

e

and f

actory

r

eset

Resets Smart Plug to factory default and starts pairing mode.

Note: A factory reset unpairs the Smart Plug from your gateway.

Press for

more than 5 seconds

Start

Zigbee

T

ouchlink

pairing

Start

s

t

ouchl

ink

pairing on the

Smart Plug

to

co

nnect

directly with

devices

e.g

.

connect

a

s

cenario

s

witch directly with your Smart Plug

.

Important safety information
Read this manual before attempting to install the device! The Smart Plug is for indoor use only.

Do not use in wet or humid locations. This includes near washing machine, sink, shower, swimming pool/bathtub or any other area with water or moisture present.

Do not use the Smart Plug together with other power adapters or power strips.

Do not connect any device consuming more than 16A.

For your own safety, do not use the Smart Plug in case of any visible damage.

The Smart Plug is not a replacement for your regular power fuse!

Failure to observe recommendations included in this manual may be dangerous or cause a violation of the law. The manufacturer will not be held responsible for any loss or damage
Appendix
Information on

d

isposal for

u

sers of

w

aste

e

lectrical &

e

lectronic

e

quipment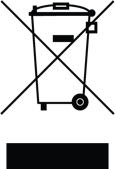 This symbol on the product and accompanying documents means that used electrical and electronic equipment (WEEE) should not be mixed with general household waste. For proper treatment, recovery and recycling, please take this product to designated collection points where it will be accepted free of charge. Alternatively, in some countries, you may be able to return your products to your local retailer upon purchase of an equivalent new product.
Disposing of this product correctly will help save valuable resources and prevent any potential negative effects on human health and the environment, which could otherwise arise from inappropriate waste handling. Please contact your local authority for further details of your nearest designated collection point. Penalties may be applicable for incorrect disposal of this waste, in accordance with your national legislation

Software updates
Software updates can be released by the manufacturer to fix bugs or enhance functionality after the product has been released. Updated software versions released will not impact continued compliance with applicable rules

Technical

s

pecifications
General

For use with CEE 7/4 (Schuko) socket
Degree of protection: IP20

Local Communication

Radio protocol: Zigbee 3.0
Frequency: 2400-2483,5 MHz (IEEE 802.15.4)

Transmission power: 19dBm

Router functionality

Ratings

Voltage: 230V AC
Frequency: 50Hz
Load: 16A
Maximal load: 16A / 3680W

Operating temperature: 0 to +40° C
Storage temperature: -20 to +45° C

Declaration of Conformitty
Datek Smart Home AS declares that the equipment described in this document, is in compliance with the essential requirements and other relevant provisions of EU Directive 2014/53/EU. If you require a copy of the original signed DoC, please visit https://hjelp.evasmart.no/hc/no or scan QR code that can be found on the packaging of this product and select documents for your product.

Datek Smart Home AS
Voldgata 8
2000 Lillestrøm