Introduction
Eva Hub is the heart of your smart home. You can easily connect Eva Hub to your home network and install the Eva Smart Home app on your phone.


After setting up the hub, you can connect Eva devices and sensors, as well as zigbee-certified devices from other suppliers, to create the exact smart home you desire. Add sensors, light bulbs, smart plugs, thermostats, or door lock modules, and create moods and schedules to enhance comfort and convenience.


Download the Eva Smart Home app


Connect Eva Hub
Plug the network cable and power cable into Eva Hub. Go into the Eva Smart Home app to create a new home. Once done, you can scan the QR code on the inside of your hub.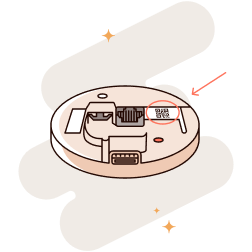 Overview of Eva Hub

Pairing devices to Eva Hub
Connect devices to Eva Hub via the Eva Smart Home app.
The "Power" LED will blink to indicate that Eva Hub is in connection mode. Three blue LEDs rotating clockwise indicate that the connection is in progress and will stop when the connection is complete.

Pairing Devices without Using the App
Set the Hub in paring mode by holding front button for more than 5 seconds. The power LED is blinking while pairing mode is active. Pairing mode will be active for 4 minutes.
Set the device you would like to pair into pairing mode (follow instructions in the user manual of the device you wish to connect).
Once the device under pairing connects with the Hub, the Power LED on the Hub will stop blinking. 3 blue LEDs will indicate the ongoing commissioning by rotating clockwise.
After successful pairing the 3 blue LEDs will turn OFF and your new device is ready to use.
Your app should now show the new device
Un-Pairing devices from the Hub
Follow the instructions in the app to remove/unpair devices from the Hub.


Status LEDs
SYMBOL
DESCRIPTION
EXPLANATION
NORMAL
Power

ON Powered on
OFF No power

Blinking Paring mode

ON
Network
ON Internet connection is OK
OFF No internet connection
ON

Server
Connection


ON Server connection is OK
OFF No server connection
Blinking Receiving/sending data
ON

Zigbee


Blinking Receiving/sending data
OFF
Button LED
COLOR
EXPLANATION
NORMAL
Magenta

ON

The Hub is

rebooting,

LED turns OFF after reboot

OFF
Red

ON The Hub has been shut down and you cannot control your home. It is safe to remove the power cable now.

Note: Restart your Hub by unplugging the power cable and reconnecting the power again

OFF

Circular status LEDs
| | | |
| --- | --- | --- |
| DESCRIPTION | EXPLANATION | NORMAL |
| 1 blue LED moving clockwise | The Hub is starting up | OFF |
| 1 or more blue LED(s) moving counterclockwise | The Hub is updating its firmware | OFF |
| 2 blue LEDs moving clockwise | Commissioning in progress | OFF |
Placement and Installation
Eva Hub can be placed on flat surfaces or mounted on the wall.
For wall mounting, remove the cover on the bottom by pulling the top and bottom apart.
Note: Do not twist the bottom or top of the cover as it may damage the product.


Use the cover's two mounting holes as a wall bracket for wall mounting. Secure the cover in the desired location using the included mounting materials. Finally, ensure that the power cable and network cable are placed in the cable channel and place Eva Hub in the wall-mounted cover.


Controlling devices
Follow the instructions in the app to control your devices connected to your Hub.
USB A port
The Hub is equipped with an USB A port for possible future use. Do not connect any device to this USB port.

Button use
Button on the front
ACTION
DESCRIPTION
EXPLANATION
Press for more than 5 seconds

Start Pairing

Start pairing mode on the Hub to connect devices.

Note: It is recommended to use the app instead for pairing devices.
Button on the back ("Reset")
ACTION
DESCRIPTION
EXPLANATION

Press for

more than 5 and less than 10

seconds

Restart Zigbee coordinator

Restarting the Zigbee network of the Hub

Press

for

more than 10

and less than 15

seconds

Restart

device

Full r

estart

of the

Hub

.

T

he

Button LED turns

ON (magenta)

Press for more than 15 seconds

Shutdown

Shuts down the Hub to safely remove the power connection. The Button LED turns ON (red)

Note: Restart your Hub by unplugging the power cable and reconnecting the power again.

In the box
Eva Hub
Power supply
Network cable
Screws and plugs for wall mounting
Safety information
Important safety information
Use only the original power supply for Eva Hub.
Do not use the Hub or accessories if they have visible damage.
The hub can be used in temperatures between 0 ºC to 40 ºC and is for indoor use in dry environments.
Do not place Eva Hub near heat sources or in direct sunlight as this can cause overheating.
Do not use Eva Hub in wet, humid, or extremely dusty environments as this can damage the product.
Failure to follow the recommendations in this user manual may be dangerous or in violation of the law. The manufacturer will not be held responsible for loss or damage.
Appendix
Information on disposal for users of waste electrical & electronic equipment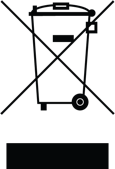 This symbol on the product and accompanying documents means that used electrical and electronic equipment (WEEE) should not be mixed with general household waste. For proper treatment, recovery and recycling, please take this product to designated collection points where it will be accepted free of charge. Alternatively, in some countries, you may be able to return your products to your local retailer upon purchase of an equivalent new product.
Disposing of this product correctly will help save valuable resources and prevent any potential negative effects on human health and the environment, which could otherwise arise from inappropriate waste handling. Please contact your local authority for further details of your nearest designated collection point. Penalties may be applicable for incorrect disposal of this waste, in accordance with your national legislation.

Software updates
Software updates can be released by the manufacturer to fix bugs or enhance functionality after the product has been released. Updated software versions released will not impact continued compliance with applicable rules.


Technical specifications
General

IP Class: IP 20 (indoor)

OTA upgradable

External Communication

10/100Mbps Ethernet (RJ45)

Local Communication

Radio protocol: Zigbee 3.0

Frequency: 2400-2483,5 MHz (IEEE 802.15.4)

Transmission power: 19dBm

Power Supply

External Micro USB power adapter 5V DC/2A

Model: 3YG GQ24-050200-AG

Ratings

Operating temperature: 0 to +40 ¨C

Storage temperature: -20 to +40 ¨C

Operating voltage: 5V

Power supply current: 2A
Declaration of Conformity
Datek Smart Home AS declares that the equipment described in this document, is in compliance with the essential requirements and other relevant provisions of EU Directive 2014/53/EU. If you require a copy of the original signed DoC, please visit https://hjelp.evasmart.no/hc/no or scan QR code that can be found on the packaging of this product and select documents for your product.

Datek Smart Home AS
Voldgata 8
2000 Lillestrøm
Norway